Grace Pendant Lamp in White Tempera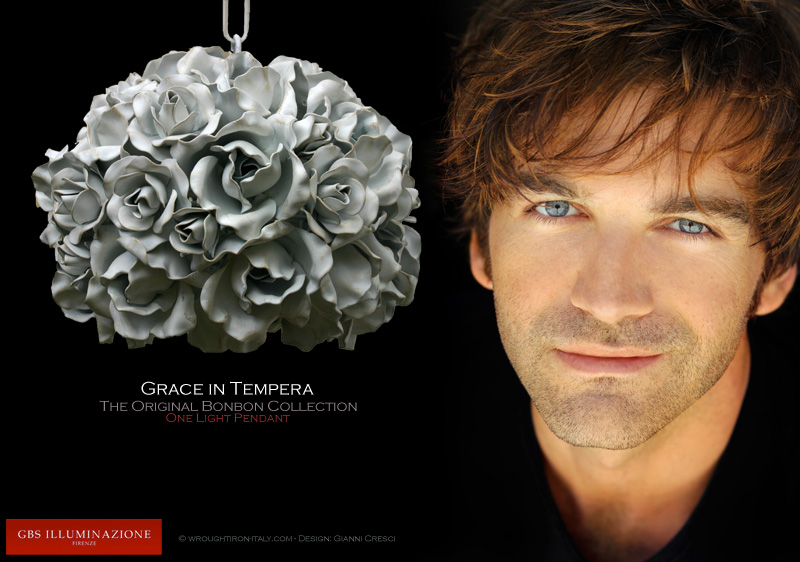 A single-light Pendant Lamp made with hand-decorated wrought iron, and with an antique white tempera finish. Grace is part of GBS FIRENZE's Bonbon Collection. MADE IN ITALY. Design: Gianni Cresci
BEWARE OF IMITATIONS. The Grace, Alice and Rose Bonbon Pendant Lamps were shown for the first time at Tendence (Frankfurt) and Fiam (Valencia) in 2002. Design: Gianni Cresci – All Right Reserved
Every authentic GBS Lamp is tailor-made, made-to-order, custom-made: you can choose color, size, number of lights. Please contact us for prices and measures: by e-mail (gbs@gbsfirenze.com or info@wroughtiron-italy.com) or by phone or by the form on this page. You can buy GBS products on line, ordering them by e-mail or by phone. You will receive the goods at home. Average production and delivery time: 18-22 working days
Follow GBS Lighting's board Pendant Lights on Pinterest.


❤️ Su Misura. ➜ Ogni articolo di GBS è su misura e può essere personalizzato nei colori, misure, numero luci.
‼️ È tutto ferro battuto e decorato a mano! 👉 Le foglie, i rami, i fiori (petalo per petalo), i fiocchi, i cuori, i nastri, ogni particolare è in ferro battuto. GBS, a Firenze dal 1925
🛒 Shop on line!  È nato GBS STORE, il primo negozio on line di GBS FIRENZE! Da oggi sarà ancora più semplice e conveniente acquistare i nostri articoli. Visitalo adesso: www.gbs-store.net/negozio/
👉 Come si acquista una lampada GBS? Nei negozi di arredamento autorizzati o direttamente on line. GBS non è un negozio ma un marchio distribuito in tutto il mondo. La sede produttiva è a Firenze e puoi visitarla, su appuntamento, in qualsiasi giorno della settimana.
➜ Qual è il prezzo? È possibile richiedere prezzi e altre informazioni per e-mail ( gbs@gbsfirenze.com oppure info@wroughtiron-italy.com ), con una telefonata (Tel. Info Prezzi +39 3288963044) o inviando il modulo presente su questa stessa pagina.
👉 Come si acquista on-line? Nelle zone in cui non sono stati selezionati punti vendita con i giusti requisiti, GBS collabora direttamente con gli arredatori e gli architetti ed ha la possibilità di vendere direttamente ai privati che ne facciano richiesta. In questo caso si può ordinare per e-mail, per telefono, su   GBS STORE o con una visita concordata presso la sede produttiva a Firenze. La consegna è a domicilio con corriere. Tempo di produzione medio: 18 giorni dalla conferma dell'ordine.
👉 Every authentic GBS Lamp is tailor-made, made-to-order, custom-made:
you can choose color, size, number of lights
. Please contact us for prices and measures: by e-mail (
gbs@gbsfirenze.com
or
info@wroughtiron-italy.com
) or by phone or by the form on this page.
You can buy GBS products on line
, ordering them by e-mail or by phone. You will receive the goods at home. Average production and delivery time: 18-22 working days
Vedi anche GBS CASA - See also: GBS HOME DECOR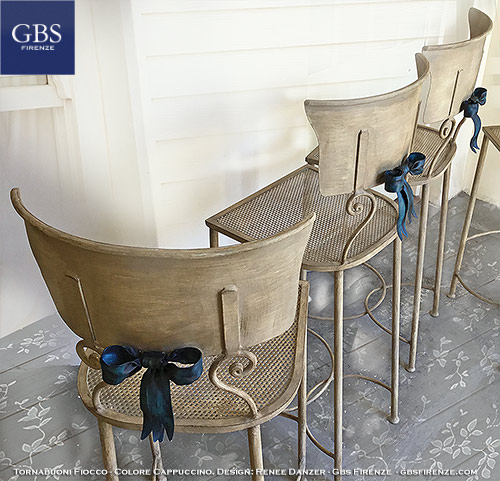 GBS CASA. GBS HOME DECOR. Ogni lampada originale GBS può essere coordinata alle collezioni di
GBS CASA
(
Tavoli, Sedie, Letti, Baldacchini, Etagere, Mensole, Accessori per il bagno...
)